Since 1989, Creative Marblecast Mfg, Inc. has been serving the Rapid City, SD area and surrounding regions by manufacturing high quality cultured marble products for kitchen countertops, vanity tops, shower bases, shower surrounds, tub surrounds, window sills and more directly for Residential and Commercial customers. We offer installation, delivery or can ship to wherever needed
We understand the importance of keeping current with industry trends and our Tyvarian® or PolyStone products do just that. You don't have to think of cultured marble as a thing of the past anymore.
Kitchen & Bathroom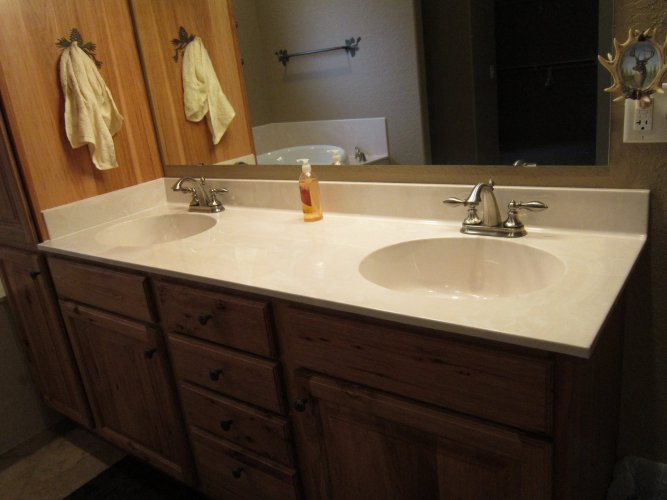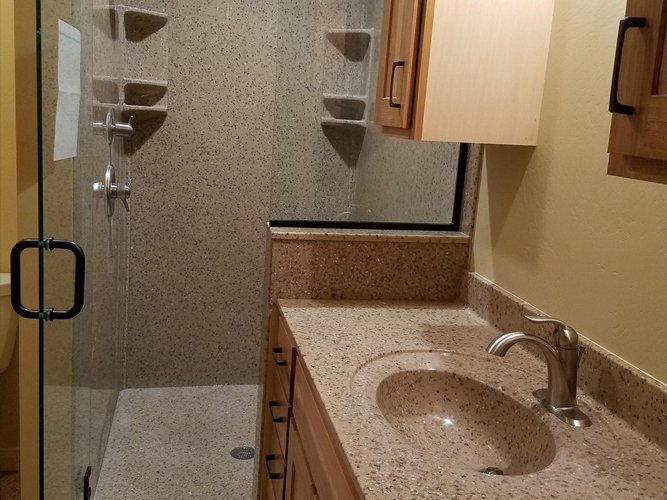 Tyvarian® products are innovative and unique surfaces that we manufacture locally with a new technology that incorporates high definition images into cultured marble which provides the luxurious look of natural stone, tile and other designs. You will be amazed by the colors and styles that are available.
Product Benefits
• Amazing design possiblities (over 90 colors)
• The look and feel of stone without the expense
• Easy to clean
• The look of tile without grout, prep work, or maintenance
• Watertight
• Moisture and mildew resistant
• Grout-free surfaces
• Scrub resistant
• UV resistant
• Environmentally responsible
• Non-porous; No sealer or grout maintenance required
Product Applications
• Shower Walls and Bases
• Tub surrounds, splashes, skirts, decks
• Vanity Tops
• Kitchen Countertops
• Tile Accent panels for Showers or Backsplashes
• Wainscoating
• Decorative wall panels
• Outdoor tables/counters
• Commercial applications
• And more!
This is a product which can't be found in a big box store! Its exceeding performance and durability tests, so combine that with the product benefits, incredible design possibilities and affordability, it sets itself apart from all other options.
Our groutless Accent Panels are ideal for kitchen or vanity backsplashes, decorative shower pieces, and more.There is finally an affordable backsplash that will finish your kitchen or bath with a wow factor that you will love.
Tile Backsplashes have been a very popular choice in kitchen and bathrooms for years. It is the definition of elegance and can make any kitchen or bathroom feel luxurious, while adding value to your home.Our accent panels look great and install in a fraction of the time it takes to install traditional tiles, saving you both time and money.
The high design and low maintenance is something you will enjoy for years to come with no grout mess to maintain or worry about. Unlike many natural stones and tiles, our accent panels are non-porous and don't require any sealing, which makes cleaning and maintenance a breeze.
Don't just imagine what your Kitchen Countertops, Shower, Bath or Vanity Tops could look like...come in to see and feel the variety of options, colors, and finishes in our showroom. If it doesn't work for you to come in during our normal business hours, we're more than happy to make an after-hours appointment with you. We hope to see you soon!